This past week has been confusing for me.
The Governor says – let's ease some of the restrictions.  The County Executive said – not so fast.  I said – I'm definitely not ready.
Here's the thing as I see it – I've got a million things to do here on the farm.  I always do this time of year.
The gardens need planting and weeding and tending to
The potted plants need water every morning and night
The flock needs to be monitored for parasite issues and overall health
The lambs are growing and are just too much fun to watch
The grass needs to be mowed
The dogs need me to throw them a ball and scratch their bellies
The cats need me to create a lap for them
There are new recipes to try
There is yarn to create
There are fleeces to skirt
There are sunrises and sunsets to admire
There are friends to catch up with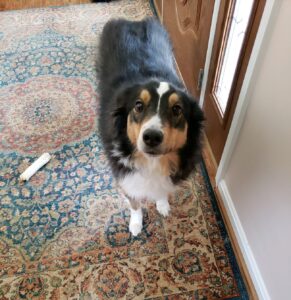 As I said, a million things to keep me busy.  Honestly, my life isn't all that different except instead of going to festivals and fairs with my spinning wheel in tow I am hosting meetings virtually and sharing the love of what I do in a different way.  A sweet added bonus?  I get to do all of it right here, in my comfort zone, on my terms… with a sweet dog at my feet.
Perhaps I'll just open up in the figurative sense.